Eco-Friendly Packaging Ideas
As the eco-system is becoming deteriorating, society is becoming increasingly 'environment conscious'. A good number of consumers demand products delivered to them in eco-friendly packages.
Somehow, we've all been involved in destroying the environment with our rude consumption habits, so I think it's time to assume our responsibility!
When consumers' demand for eco-friendly options is growing, corporate demands are increasing and potential government policies are coming into effect, companies are becoming aware to consider eco-friendly packaging ideas, and which may not stay optional from now on.
By switching into eco-friendly packaging, companies aim to find ways and methods that'll have less impact on the planet, but at the meantime, they're streamlining with sustainable practices that'll improve their reputation as green brands.
Is sustainable packaging costly?
Most of the manufacturers consider eco-friendly packaging too expensive and time-consuming, while it turns to be the contrary.
By eliminating or reducing some of the heavy materials used in traditional packaging, companies can produce original and cost-effective packages by using cheap recyclable materials. In consequence, packages become lighter and require less space in your stocks, therefore shipping is becoming cheaper as well.
Otherwise, manufacturers can subcontract eco-friendly packaging and it'll become less and less costly, as recyclable materials demand will increase and encourage special eco-friendly companies to produce more and thereafter bring down their costs.
By reducing traditional plasticized packages, companies can also reduce energy usage to become a completely sustainable brand. And then coming up with original and innovative packaging ideas, the following represents some of the eco-friendly packaging ideas:
1. Paper Bottles:
Pretty original and effective, this is a genius idea for liquid products and cosmetic brands that aim to deliver their products in an environmentally-friendly way.
Paper bottles combine a shell and liner, the shells are made from a recyclable and biodegradable pulp mixture of wheat straw, cardboard, and newspaper. The shape is completely customizable using a thin recycled plastic.
In 2011, L'Oréal USA designed, in partnership with Ecologic Brands, a great personal care packaging. Together they created the Seed Phytonutrients' 250-milliliter bottles, with a shell that is a full paper-based, recyclable and compostable.
The magical thing: these are water-resistant paper bottles, able to resist shower and ditched glue pressures, thanks to an interlocking tabs system that provides a strong outer structure.
This is cost-effective and more efficient to transport as it requires less space than traditional packaging.
2. Egg Carton:
This is might be an old eco-friendly packaging idea, but sills really cool!
The basic egg cartons have dimples accommodating each egg and separating it from others.  The carton can be made from molded pulp or recycled paper and even from wet mixed newspapers.
The result: an innovative egg carton, able for carrying and transporting whole eggs.
3. Disposable Food Bowl:
Designer Michal Marko created an insane packaging concept with minimum environmental impact: disposable food bowl under the tagline "Eat your food, Grow a plant, Sava a planet".
This bowl is made of recyclable cardboard, paperboard, and pulp fibers and is treated to improve wet strength or grease resistance which makes it zero-waste at the top and takes it a step further, by turning 'packaging' into trees!
Despite the usual disposable packaging that comprises items often found in fast food restaurants and foodservice, this special eco-friendly package allows you to contribute to environmental protection. How?
Once you enjoy your food, you can put the seeds into the bowl, add some water and then plant the bowl with a plant into the ground. Because the bowl is 100% biodegradable, it will degrade and then your own herb can grow.
What if we try to replace our plates, in our homes, with this amazing sustainable bowl? This would allow us to go, all the way, zero waste and continue to save our blue planet. Or isn't it?
4. Cardboard packaging ideas :
Although very simple but effective! Cardboard packaging is a great way to go green and zero-waste.
Cardboard packaging is usually created from a single strip of recyclable cardboard and still offers protection to the comprised product or item.
Sometimes, we think that certain products come with too much and unnecessary packaging. That's why we like to see more simple packages. Let's discover some of the most creative cardboard ideas that you'll like for sure:
5. Reusable Bags: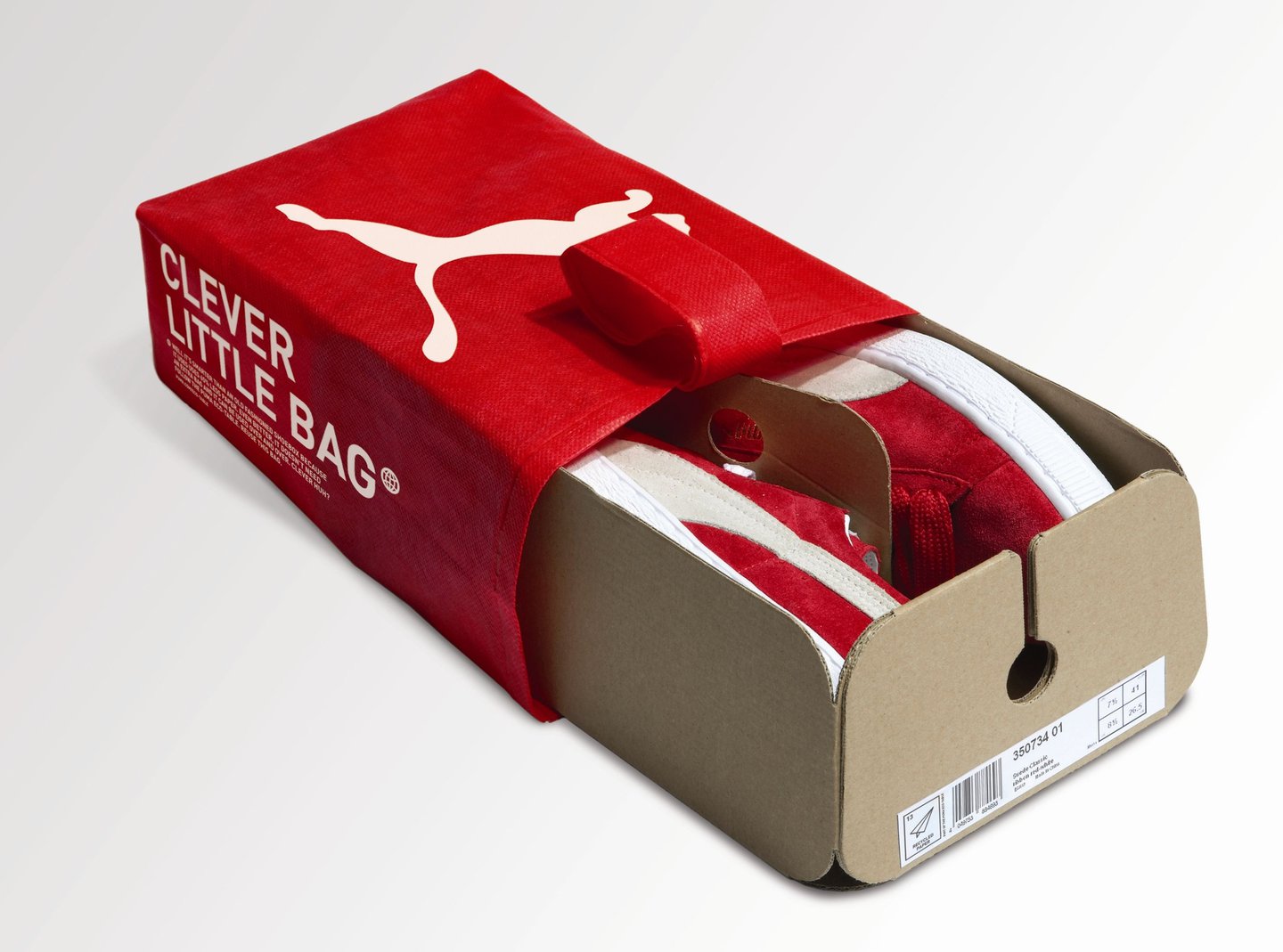 Everyone would agree that this is a traditional packaging idea, but there still some folks not believing in its sustainability and its cost-effectiveness. That wasn't convincing?
Alright! Consider the giant PUMA who created this beautiful reusable package "Clever Little Bag". The original reusable bag is made from some raw materials such as carton and recyclable plastic. According to PUMA manufacturers, this bag is a real eco-friendly product, as it can save up to 50% of water and energy.
The look is also cool, but the great thing that it is reusable. This is such a good way to reduce plastic bags usage and increase brand awareness as the bag contains PUMA's logo!
If you've got a brand and you aim to make genius and sustainable packaging, we'll be glad if you consider one of these original ideas and sharing your thoughts in the comments below!